Destinations
Destinations
Private Accessible 3 hour Guided Tour of Belize Zoo
Private Accessible 3 hour Guided Tour of Belize Zoo
Tour Description
The Private Accessible 3 hour Guided Tour of Belize Zoo offers fun for all the family! Explore the famous Belize Zoo where over 50,000 people visit annually! This accessible guided tour begins at the cruise dock where your experienced, friendly guide/driver will meet you in a comfortable, air conditioned van.
As you make your way to the Belize Zoo, you'll have a unique opportunity to enjoy the beautiful scenery of Belize and take pictures from the comfort of the van. Once you arrive at the Zoo, your friendly, professional guide will accompany you on a 2 hour wheelchair friendly private guided tour using accessible routes.
During your accessible Belize Zoo Tour, you get to experience native Belize wildlife up close. Among other things, you will see Tapirs, Toucans, Harpy, Eagles, Jaguars and Howler Monkeys! In total, the Zoo has more than 150 different types of animals and is settled upon approximately 29 acres of tropical savanna. The Zoo is a conservation facility, and most of the animals are either orphaned, rescued or rehabilitated animals.
For this accessible guided tour, it is necessary for the disabled traveler to transfer to a regular seat in the van as there is no ramp available. During the ride to and from the Zoo, the mobility equipment can be stored in the van and taken out to use while at the Zoo. The guided tour at the Zoo is accessible with no steps to navigate. There is also an accessible bathroom available on site.
Conclude this Accessible Belize Zoo Guided Tour with your local guide/driver escorting you back to the designated place near the cruise dock where your next adventure awaits on-board your cruise ship!
Highlights
Beautiful scenic drive
Great photo opportunities
Belize Zoo
Accessible Guided Tour of Belize Zoo Photos
This accessible guided tour of Belize Zoo uses a wheelchair accessible van with a portable ramp. Some of the waking/strolling paths at the Zoo are not completely flat and paved, and a few of the display areas have stairs leading up to them. These areas can be viewed from the ground levels by wheelchair users who cannot navigate the stairs.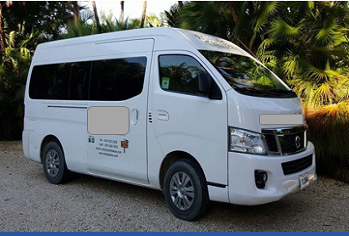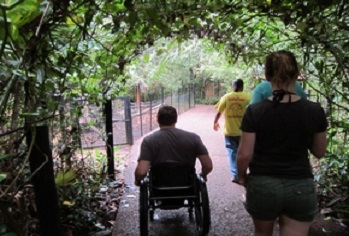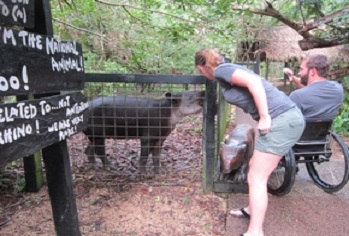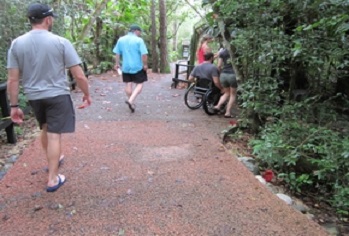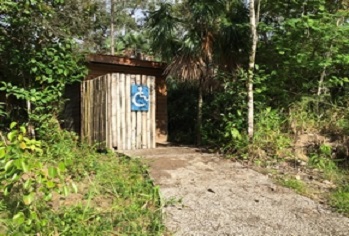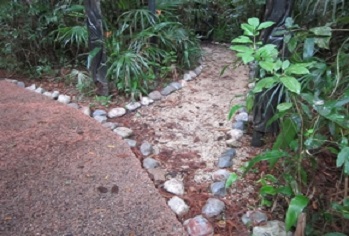 Important Notes
Find Similar Tours by Category
Tour Reviews
Customers also viewed